Detaljer

Kategori: English

English
Info about the instruments, five of Sweden's finest and greatest church organs.
 Sofia's Church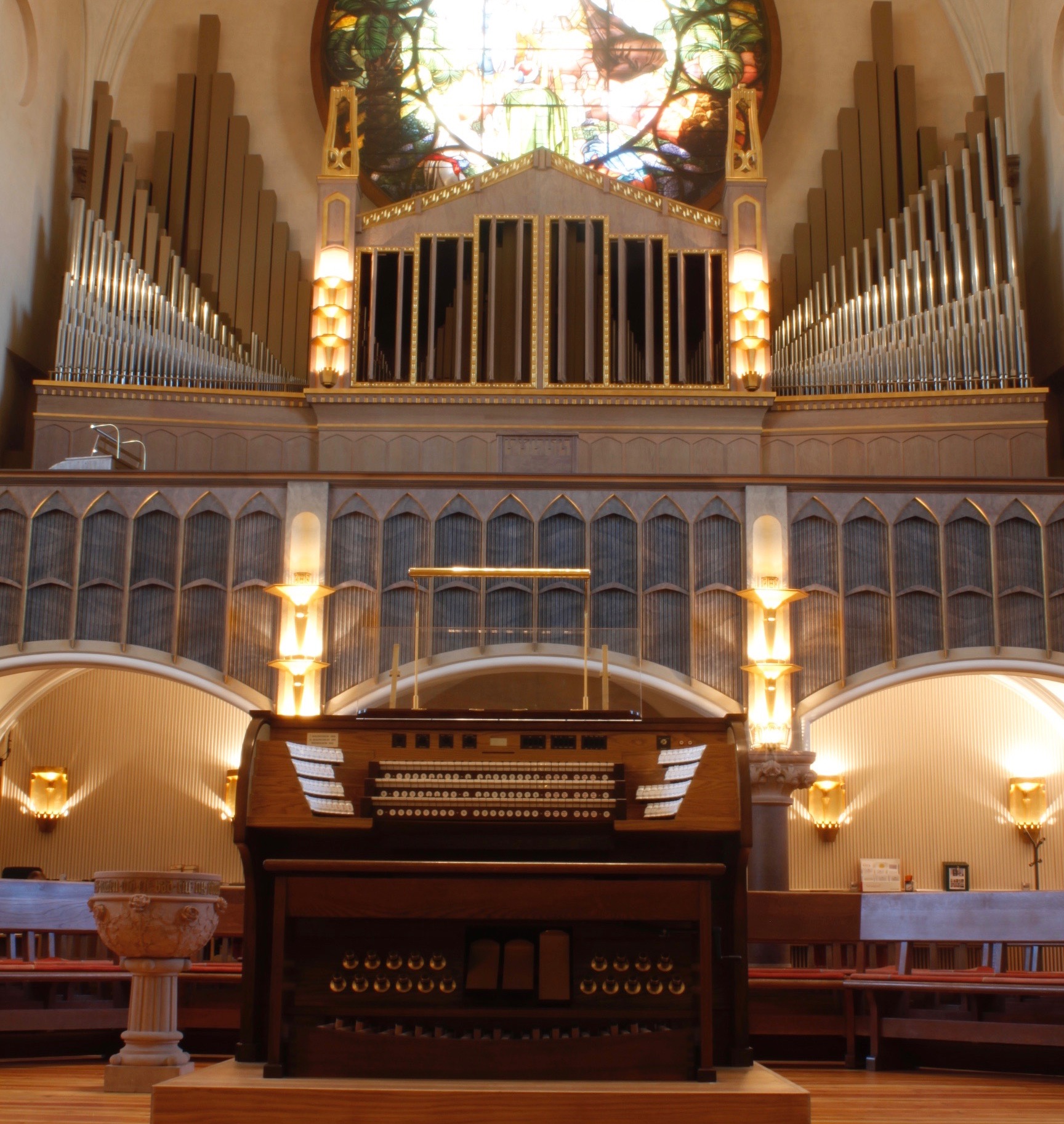 Sofia's Church was consecrated in 1906. The church is situated on a hill Vita Bergen with a view over Stockholm. The organ was built in 1951 by the Swedish firm A. Magnusson Organbuilders, and almost all pipe material from an earlier organ, built in 1906, was used. In 2012-13 the organ was rebuilt by the English firm Nicholson & Co. The organ has 58 stops on three manuals and pedal. (photo: Caroline Hedin)
More information Sofia-Church-Organ---IBO-Article-2013.pdf
St. Jacob's Church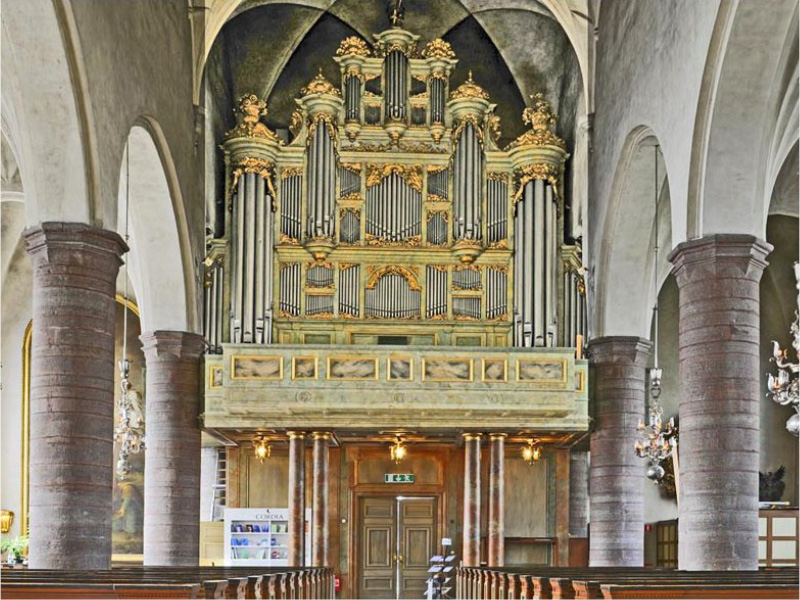 St. Jacob's church, close to the Opera house, was founded in 1588. The organ is unique in its historic continuity. It incorporates substantial pipework from all the different organs that have successively been speaking through the impressive façade from 1746. The present organ was built in 1976 by the Danish organ builder Marcussen & Søn  With its 83 stops, it counts among the largest neo-symphonic instruments in Sweden.
Katarina's Church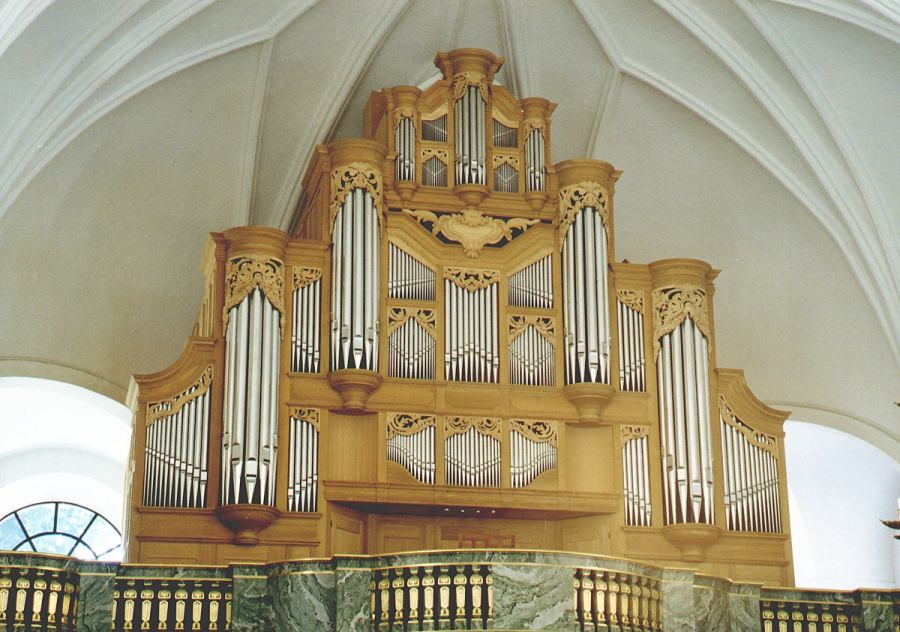 The Katarina church in eastern Södermalm was built in 1656-95. The night of May 17, 1990, the church of Katarina burned, and there were only the crossbar bars and the church's outer walls left. The church was rebuilt and reopened in 1995. The 62-stop organ, built by J. L. van den Heuvel Orgelbouw b.v., Dordrecht, Dordrecht, The Netherlands, was completed in 1999, and its facade has the same shape as the 17th-century Adlercreutz façade but unpainted and without sculptures.
More information: Van den Heuvels webpage 
                                                      Disposition
Engelbrekt's Church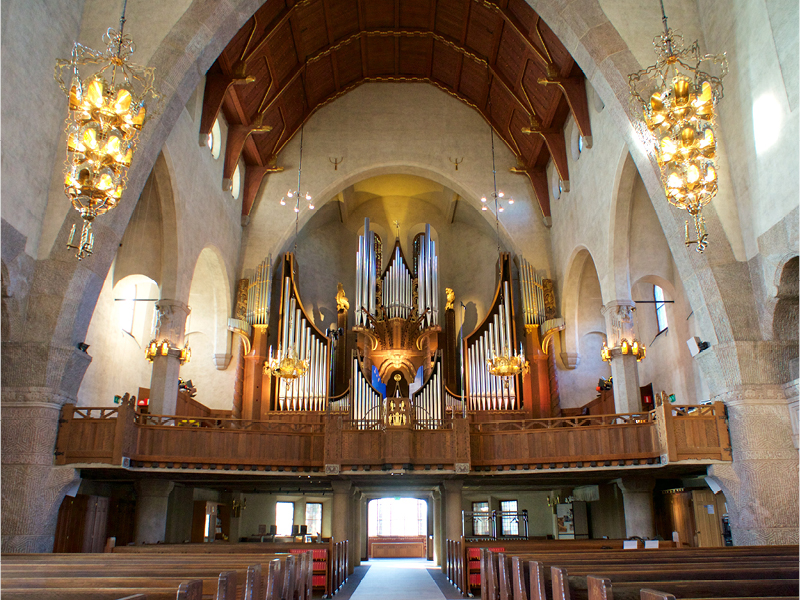 Engelbrekt's church was consecrated in 1914. Internationally it is considered one of the most striking examples of the Arts and Crafts movement in Sweden. It blends Gothic style with Art Noveau, tempered by a remaining streak of national romanticism. The organ, built in 1964, is the largest instrument by the Swedish organ builder Grönlund in Luleå. Completely renovated in 2015, it comprises 91 speaking stops over 7 divisions, five manuals and pedal. (photo: Stefan Therstam)
More information, in Swedish: OrgelinfohAfte-Engelbrekt.pdf

Gustaf Vasa's Church
Gustaf Vasa church, designed by architect Agi Lindegren, was consecrated in 1906. The organ from Åkerman & Lund came the same year. Otto Olsson, the organist of the church in 1907-1956, allowed the company Setterquist & Son to expand the organ significantly. Over the years have several minor changes been made, but in essence, the organ maintains it's original condition. In recent years, the church has been completely renovated and regained its former glory. Magnus Blix refurbished the organ, which with its 76 registries, appears to be the country's largest representative of the late-romantic Swedish organ-building tradition.
More information: Disposition

GPS coordinates to the churches: https://en.wikipedia.org/wiki/List_of_churches_in_Stockholm